Quad and 4x4 in Essaouira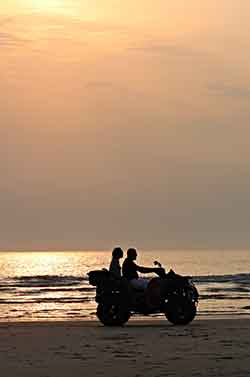 Ideal for discovering the near Essaouira region, for sporting excursions with dune crossing or more peacefully with the family the quad is a playful and easily handy machine.
From the beach of Essaouira heading south to the discovery of the Portuguese ruins, the Lighthouse of Cap Sim and the dunes of fine sand.
Immersed in the wilderness you will surely cross the road of herds of goats, sheep, donkeys or even dromedaries in freedom.
Reliable and maintained equipment, professionals for the supervision of the walks and all the safety and insurance standards are respected for an optimum service.
The Riad Chbanate team has appealed for its guests to a quality partner who has been working in Essaouira for years.
This same provider invites you to discover the city of the Alizés from the sea with a large choice of nautical activities: fishing, sailing boat trip…