Horse & Camel in Essaouira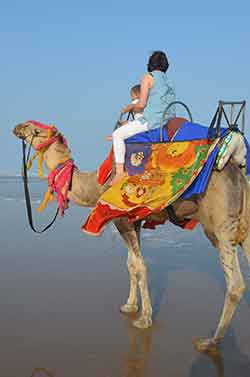 The city of Essaouira has long maintained a common history with horses and horsemanship, the local breed beard or Berber beard is renowned for its resistance and its docility.
Accessible to all, beginners as confirmed riders these walks will invite to discover the region differently.
And for a more traditional touch, the dromedary ride by the sea, remains a pleasant activity.
A naturally docile and nonchalant animal, it is the ideal formula for family walks.
The Riad Chbanate invites you to professional and recognized service providers.
These equestrian centers design for you tailor-made walks in the souiri countryside or on the beaches of the region.
Different formulas are proposed, for a few hours, or for the day with picnic on the beach or in the country.